Lets take great photos. I'm the first to admit I don't know much about product photography. My biggest issue is lighting. I've bought lamps, used my flash, opened all the blinds and I still had such an issue with yellowing or dark pictures. I don't have time to learn photoshop and besides, I'd rather be making stuff. So I've experimented with a lot of different lighting sources and this is what I have found.
Tip 6.
Try taking photos in natural, indirect sunlight.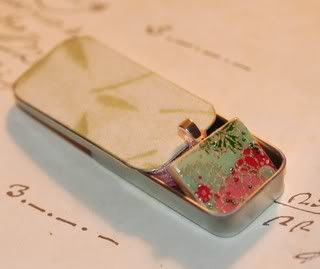 This photo was taken with "white light" bulbs (2) and a flash. Its yellow and dull and though passable, not something I am pleased with.
This photo was taken in direct (but partially obscured) sunlight. The shadows are harsh and though I'd take this over the the yellow light it is funky looking, especially in tiny time machine format.
This photo was taken on a window sill, (thanks
Gemmafactrix
for the spot you did on the
Etsy Blog
) out of direct sun. It's still a little dark but much more marketable in my opinion. When I loaded into Iphoto (go mac!) I used the adjust image tool and slid the level bar down just a touch. Voila, a 5 second adjustment and I have a photo worth listing that really shows the nature and tones of the piece.
You can find free programs for PCs that work like Iphoto,
Picasa
is reportedly great. And for those of you who live in windowless dungeons you can build an inexpensive
light box.
I'll talk more about photography in the future. Just keep in mind your customers don't really know what they are buying until it arrives. True and accurate photos are a great way to boost your sales.
Part 2.
Photos courtesy of

schOOLLOcker
One of the best stores on
Etsy to find all sorts of supplies.
Taking unique photos is one of the hardest parts of selling on Etsy. Especially if you are like me and make mostly one of a kind peices. (You people who make more than one of the same item are GENIOUS). Having a good camera is step one, step two is setting up your shot. I choose SchOOLLOcker for this piece becuase she sells standard every day items but she photographs them as though they are art (very smart considering her market!).
Make your product stand out through interesting photography. Use of color can be great, pattern, texture, unique lighting. You don't want your picture to detract from the actual object but you do want to make sure you are saying "look at me" with your photographs. A pair of earrings on a nice sheet of construction paper or an old game board cover (my choice) can really add depth and dimension to your image. For those of you photographting prints or artwork, the cleaner and clearer the image the better. Some artists show thier first image in a setting (livingroom, kitchen etc) this can work well for attracting views, especially if the photo is crisp and well lit. Play around with your product, get creative and see what really make you go wow!
Part 3
You can also create recognition for your shop through photography. When you find something that works well, stick with it. I always know when I see certain sellers in the time machine. By taking a similar style photo for your work you help your customers find you, brand recognition is becoming more and more important as Etsy grows. This is hugely important for reaching record sales.